Spanish is a Truly Global Language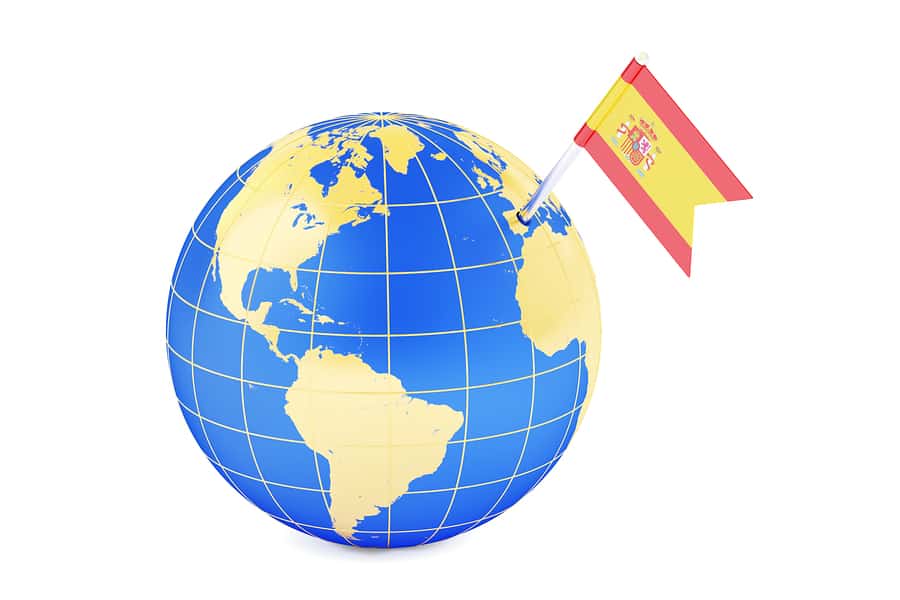 Often, people forget the influence of Spanish, but Spain as a colonizer spread the language around the western hemisphere in the 14th to 15th centuries, doing its very best to displace indigenous languages. Today, twenty-one countries have adopted Spanish as their official language. This means the Spanish language takes second place as one of the most widely spoken global languages. Chinese languages take the lead. In the United States alone there are at least 41 million who speak Spanish as their primary language, while 12 million consider themselves to be bilingual. Overall, more than 400 million people throughout the world speak Spanish.
Spanish in the United States
By 2050 the biggest number of Spanish speakers in the world is expected to be in the United States. At the moment more and more university students in the country choose to study Spanish. In fact, Spanish is studied more than any other language in the country.
Spanish and the internet
Today, platforms created by social media are how customers are influenced to buy products. This is where well-known brand names like Pepsi, Nestle, and Coca-Cola show their presence. Their main languages for communication include Spanish which they use to target customers in Spanish-speaking countries, of which there are 377 million of them throughout the world.
Spanish and the global business sector
Research by Telefónica Foundation discovered that bilateral trade increased by a whopping 290% if Spanish is used in international commerce. Businesses fill a gap if they turn to Spanish translations as a marketing tactic. Results of the research have shown without a doubt that the majority of internet shoppers prefer to use and buy from online companies which showcase their products in their own native language.
Translating between English and Spanish is not easy
As with many language translations, ensuring English content fits into a Spanish context is not an easy challenge. Spanish can be difficult because it is more closely related to Portuguese and Italian Romance languages, which is not the same as the Anglo Saxon root that English comes from. Apart from that, there are other difficulties faced by translating Spanish.
There are several variations of Spanish, such as the Spanish spoken in Europe, Spanish spoken in the Americas, and the differences in dialect are evident between countries too. The differences relate not only to pronunciation but also there are grammar differences while food, clothing, and everyday things are named differently.
Spanish has more text that takes up more space. When a translation is required from English to Spanish, advertising material needs to fit on a poster. This requires the skills of an experienced English to Spanish translator who knows how to fill in space without the meaning being lost in translation.
Because Spanish has both formal and informal forms, such as the formal pronoun for "you" which is used instead of tú, it takes a very skilled translator to do a translation from English to Spanish. In fact, it needs to be someone who knows the nuances of the country which is to be targeted.
Using translation services for Spanish translations
If you run a business and you believe you have lost opportunities because you did not realize that Spanish was so important, there is no better time than now to incorporate Spanish into your marketing plan.
You need to look through translation companies online and find one that suits your requirements. One key consideration is locating one that can showcase Spanish business translations. That means one that has Spanish translators who not only understand the corporate environment but understand how localization and transcreation are important in the global marketing environment.
The best translators are the ones who hold advanced degrees in Spanish and can seamlessly translate because they fully understand how Spanish works in different countries. Of course, if you want to channel your marketing to Chile, for example, it helps to ask your chosen translation company if they have a Chilean Spanish translator.
Spanish is not exactly the same in every Spanish-speaking country. A native Spanish translator from Argentina knows how to use Spanish in their business sector better than a translator from Spain.
Translation companies match you with the right Spanish translator
If your business is selling vehicles to Spain, your chosen translation company will match you up with a Spanish translator from Spain who specializes in the auto industry. This makes for a more accurate and faster translation. A specialized translator will have all the required technical language close at hand to use in your translation. You should never accept an offer of a translator if that person has neither experience translating in your field nor to your targeted Spanish-speaking country.